Welcome to Our Practice
Info Regarding COVID-19
In accordance with the recommendations outlined by the American Academy of Pediatrics during the COVID-19 pandemic, we will continue to promote well care visits and vaccine administration. In order to protect our healthy patients, we will be completing well check-ups in our downstairs office, Suite 102. We will see all same day and sick visits in our upstairs office, Suite 260. Everyone will continue to check-in on the first floor, Suite 102. This separation of patients will assure parents we are taking all precautions necessary to allow for our tiny, vulnerable patients and other well patients to stay healthy. We are also scheduling our shot only patients to avoid any possibility of over-crowding in our downstairs office. These visits will be scheduled between the hours of 8:30 AM to 4:00 PM. Please contact our office to schedule a shot only appointment that is convenient for you. If you or your child have fever or respiratory symptoms and the child is scheduled for a well visit, we ask you to call and reschedule. Please call the office with any questions.
Telehealth is now available!
Pediatrics of Lima is excited to announce we now offer Telehealth visits for certain appointments. The video conference will be provided through our secure electronic medical records system. Some visits that may be appropriate for Telehealth conference include ADHD rechecks, anxiety/depression rechecks, rashes, pinkeye, vomiting/diarrhea, head lice, or sinus infections. Complaints like sore throat, ear pain, and bronchitis/pneumonia will likely still need an in-person visit due to the importance of the physical exam. At this time, we cannot offer wellness visits through Telehealth because they also require an in-person exam. Please call the office for more information and to find out if a Telehealth visit might be an option for your child.
Pediatrics of Lima
At Pediatrics Of Lima, our skilled team of Lima pediatricians offers comprehensive medical care for infants, children, and adolescents. Conveniently located attached to St. Rita's Medical Center, our courteous and knowledgeable staff works hard from the first contact to make every visit to our office positive.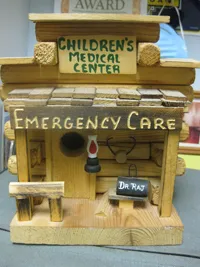 Whether it's your child's first visit to our office or just a routine well-child checkup, we strive to make sure you and your child are always comfortable and informed. We take the time to talk with parents to help you understand your child's needs, and we equip you with the knowledge necessary for promoting a lifetime of optimal health and wellness.
To help you get acquainted with our practice, we have provided the important information you need on our website. Please browse these pages to learn more about our skilled doctors, nurse practitioners, services, office details, commonly asked questions, new patient forms and even to request an appointment .
Our pediatricians believe exceptional care is obtained when there is an ongoing relationship between the doctor and patient. We want to be lifelong partners in your child's health. We achieve this goal by listing to your questions and concerns and educating you on how to promote a healthy lifestyle for the entire family.
When you choose Pediatrics of Lima, you can feel confident that you are teaming with knowledgeable, compassionate practitioners who have dedicated their careers to child-focused health care. Please do not hesitate to contact our office with questions or concerns. Our pediatricians and nurturing staff look forward to meeting you and your family.
Pediatrics of Lima understands that children are not simply small adults. They often present with different symptoms and require special treatment than adults. Our office offers patients and parents access to Board Certified experts in Pediatrics. We are three Physicians and two certified Nurse Practitioners strong; Sheilla McNeal, M.D., Teresa J. Byrne, M.D, and Jennifer Whitehead, M.D., along with Amanda Thatcher, CNP, and Jessica Compton, PNP. We have also added an additional office to serve our families located on the second floor, Suite 260, of our professional building. One of our doctors has an open schedule each day to accommodate same day sick visits for our patients. Please call ahead.
So if you are thinking of growing your family or switching to a practitioner who is specially trained to care for your newborn, child or adolescent – join our growing family!
Sick Child?
View the KidsDoc Symptom Checker from HealthyChildren.org
---